When we finally!!!!!! Arrived in Srednekolymsk I was really exhausted of the long drive. And the apartment Volodja was providing me (for free) was just a disaster. There was one of his workers living in, it was extremely dirty, years old, rotten apples, toilet and shower not working. A huge mess! And no bed! However, I had my sleeping bag and matrass and it was already late evening. So, I decided to stay for a night and search a solution the next day.
In the morning I got to know his neighbour there. He spontaneously invited me for breakfast. I told him about the apartment and he already brought me a field bed. I was invited again for lunch and then went out to explore the city (3'500 people are living there, 100 km north of the arctic circle. Locals tell it has the city status, but for me it was just a small village) When I came back he had good news for me: Another neighbour had an empty apartment for me to rent. For about 18 dollars a night, with 3 rooms, working toilet and shower, kitchen and everything I need! This was amazing!
Srednekolymsk and the central carbon heating system
The live there, up north, so far away from everywhere, somewhere in the nowhere was really interesting and exotic for me. Internet was basically not existent. A what's app message (just text) took 10 min. to be sent on the mobile internet and wifi wasn't available anywhere. The once who have internet pay 15 dollars for each 50 MB! Internet is just available over satellite. The tab water is burning hot! Cold water is not available. And the smell of sulphur or rotten eggs fills the air each time you turn it on! It's not drinkable of course and depending on the house it's something in between of light brown to dark, rusty black! For drinking water all people walk once a day to the river, and fill their canisters by foot, snowmobile or car in the only whole in the ice! The river water is clean and can be drunk also without cooking.
One hole for the drinking water supply of the whole village! Some come by snow mobile, some by car, some by foot.
The people of the village are very friendly! When they met me in the street they were often talking to me. At the beginning asking where I'm from, and at the end I guess everyone knew that a Swiss is in their village, so they just spoke to me by asking: "Are you the Swiss guy?" I finally spent almost a week in this small village and it was good so I could regenerate a little from my long trip to this place. I felt there like on an island in middle of the wide and wild taiga! It wasn't jet tundra, but it was already a place, where sometimes they get visited by a big, white polar bear! It's rear that they come so much south, but I met people that already saw them there.
Evening in Srednekolymsk. A place with plenty of northern lights - however I didn't see some. And second picture: old tank as city monument.
It took me finally 10 days of hitchhiking to reach Srednekolymsk from Yakutsk! A place such remote, so far away! In one of the only left, so remote places on earth! Against my expectation I was never waiting long for a car! The longest waiting time was just about 3 hours! Which is quite amazing, because in the last 4 days of driving we met just a few other trucks! Sometimes we didn't meet anyone else for up to 20 h! And the most amazing: There were still 600 km or another 4 days driving left to Tscherski, and from there another 100 km to the north polar see! The original goal of my trip. And the ice road was even going further: All the way to the end of Chukotka! Minimum another week of driving! It's amazing to travel overland and feel the distances! Yes, you really get the feeling of the distance! But Chukotka was sooooo far away! So amazingly remote! The remotest place on earth! And already to Srednekolymsk the way was so long, so extremely remote that I already started to lose the feeling of the distance! It was just too far to have the overview of each sequence! I never expected any place can be that remote!
A lot of dogs in the whole village, allways on short chains. I had really pitty with this poor dogs. They couldn't even get for a walk once in a day.
After the long ride on the winter road I already had a little bit enough of winter roads. It started to get normal and wasn't anymore that exciting like the first day, and just really, really, really tyring! So, I was already thinking if I really want to go further or not! Hitchhiking back was not anymore, an option. Too far, too much time needed (visa), too tiring! I didn't expect the street to be that slow! So back to Jakutsk was just possible by plain. But the plain was expensive: 350 Dollars from Srednekolymsk and 500 Dollars from Tscherski. So should I really get further, another tiring 4 days in a truck and then pay 150 dollars more for the flight back?
Pic 1: children of a school where I made a photo presentation. pic. 2: youth of Srednekolymsk. From one of them, I could rent his parent's apartement.
I didn't yet know what I really wanted to do. But then, the decision was made easy to me: The winter road to Tscherski wasn't yet open! Too much snow, too warm! Means: over the winter 2 m of snow were falling there. This is too much isolation for the water below. The ice was not yet thick enough. But in "some days" most probably the street would open. Nobody could say it exactly. And after I was waiting for 4 days, not yet sure whether I would go further or not if the street opens, the street was still not open. And I decided to buy the ticket for the plane 2 days later. I was simply running out of time for my visa and couldn't wait longer…
So, it came that I finally flow back to Yakutsk, where I have already been. However, my goal once around the world without plane is still valid, as the flight didn't bring me further, but just back to a place I have already been. After all, the trip on the "Simnik" (Winterroad) was for sure one of my biggest, most amazing adventures I've ever done! A story I will remember all my life! A story I can tell my grandchildren one day (if I ever have 😊 ). And so much of amazing impressions, including working for days in one of maybe the most difficult jobs in earth! Assistant for winter road truckers…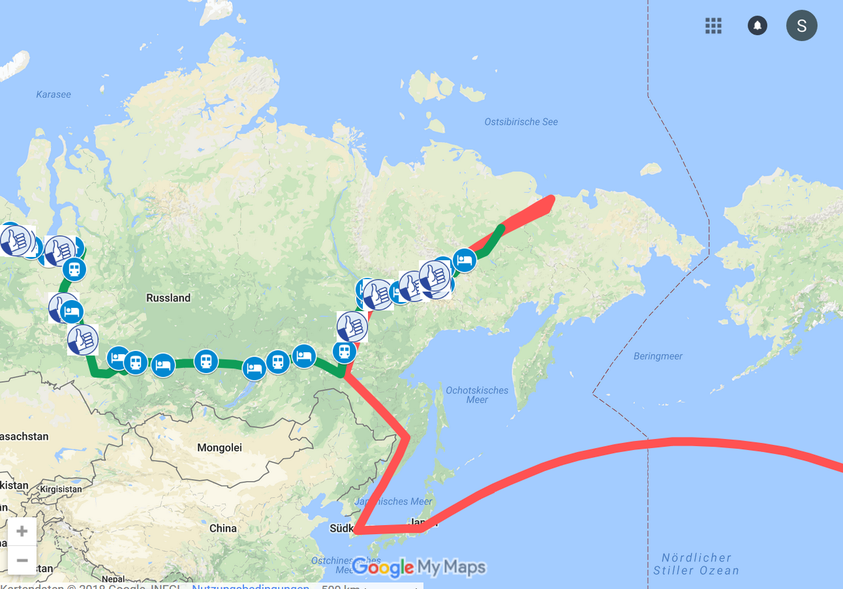 In green, my allready done route. In red the original plan.