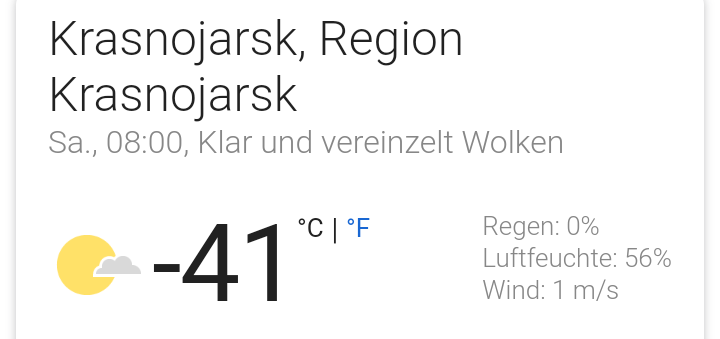 Weather in Krasnojarsk in early morning
Finally the temperature is below -40! At 10 am even -43! Excited to see how it feels I leave my hostel, well packed in my expedition costume. My goal: going for a hike in the nature, close to Stolby national park. In summer a big tourist attraktion, but one way by foot at least 2.5h of hiking! To far in this freezing temperatures I expected!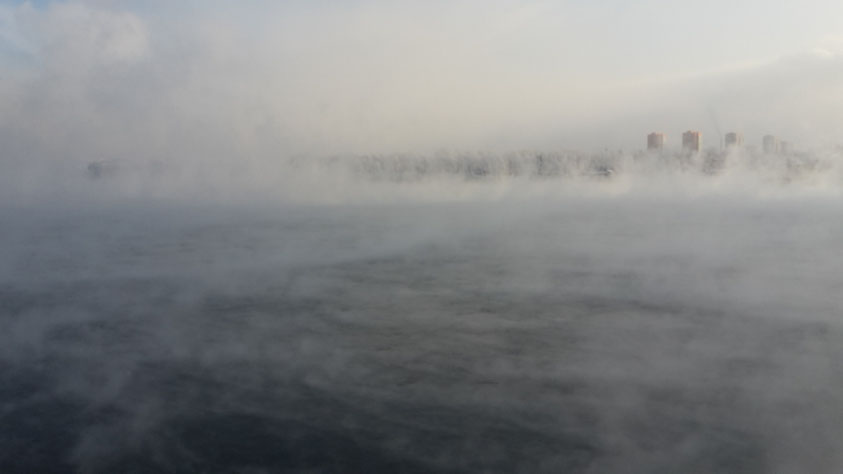 Jenissei, the river in Krasnojarsk never freezes, becouse of the water power station just before the city. That's why the Klimate in Krasnojarsk is very wet, making -40°C feeling even way colder!  Here you can see the fog over the river and the city on the other side.
After hiking for a while in the city, I wasn't cold at all! My expedition cloths proofed that they were good! So I took the bus close to the national park to go for a hike. While I was hiking up the mountain, I got more and more hot! I even had to open my costume a little. (You really don't wan't to get wet at such cold temperatures :-)  )  And surprisingly I was not the only hiker. There were at least 30 people going up to Stolby that day!
After 2.5h of hiking there was a huge icicle on my mask! Even after half an h inside, it wasn't completly melted...
Just some minuts from the first "Stolby" (stone formation) there was a hut (information center and pick nick place). And surprisingly it was open and heated, even at this cold temperature! I went in to eat something. And that's where I met Andrej and Jelena. They are hiking allmost each weekend in Stolby national park and invited me to show me the most impressive stone formations. Gladly I accepted the invitation
Stone formations and winter landscape at Stolby national park
During the day in the sunshine the temperature raised, to about -35°C :-) After an amazing and beautifull hike through the stone formations, Andrey told me: "Let's try to climb the first Stolby". Saddly, at that moment it was to much for my phone, it froze in the cold and I couldn't take pictures anymore. Andrej had a camera, but the battery allways below his jacket, and the camera in the backpack.
Beautifull landscape in Stolby national park
Andrej and Jelena both had grampons! I just had my shoes with spikes! However we decided to try it and started to climb up! And it was really climbing, no hiking anymore. On europeen scale it would be a 3 in climbing difficulty in some short parts! The trail was exposed in some parts. And with the snow and ice slippery. I was so glad to have spikes, without them I guess I couldn't have made it. And without the help of Andrey - no chance! In the most difficult parts he set his feets just below mine, becouse he had grampons and me not, so he had much better stand.
It was an interesting, but difficult way up! Some small ledges, and even a crevasse, where whe had to climb up through, pressing the back to one stone side and the feets to the other stone side, then cm for cm upwards... And finally, we were at the top - 650 m over see.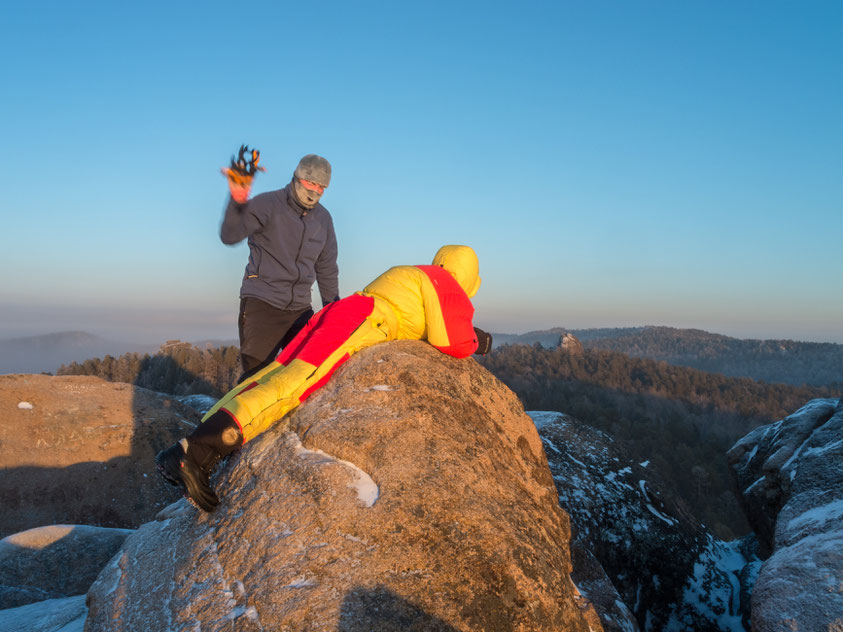 -36°C, at top of the first Stolby 650 m over see
Then I got introduced to the local tradition: On each Stolby you climb the first time, you get as many claps on your back with a shoe,  as the actual day of the month. So it was 20 times for me :-) It was too cold to take off the boots, so we used the grampon :-)
Finally we took a little different way to go down, as interesting as the way up! Climbing, sometimes sliding over stones on the back, and even through a small cave, as small as I just fitted through with my big costume, Andrej had to take his backback off. And again we had to climb down through the cave for some meters, pressing the body between the rocks. And at the end just jumb down in the soft snow! Saddly my phone was frozen at that time, but sometimes, the best memorys are the ones you can't take on picture...