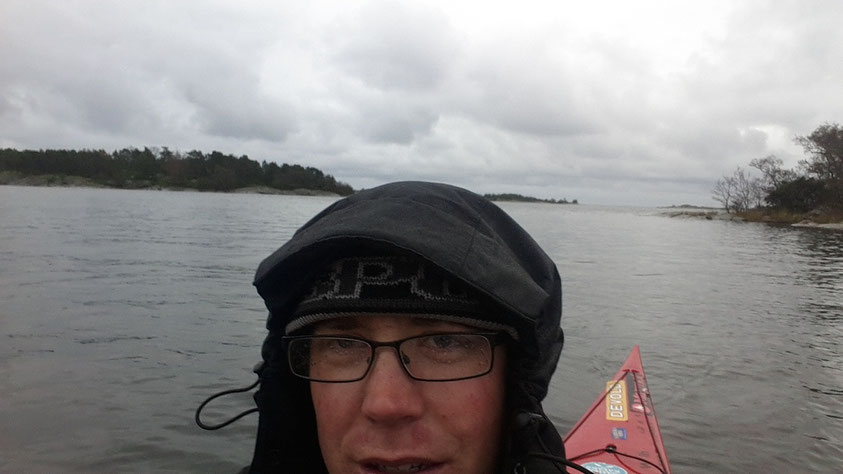 Who didn't allready dream about it: To own a paradisic Island somwhere in tropic temperatures with beautyfull sand beach and palms? That's something I had on my bucketlist, a goal I wanted to reach before my trip is finished. Well, not to own an Island for ever, just for a night, so basically just to spend a night on a not inhabitad island. And this wish came finally true. Well, not in tropical conditions, but at +3°C air temperature and +6° water temperature.
It startet with a ferry from Sweden to Aland. After 2 nights Couchsurfing on the main island I hitchhiked to Föglö, the next island. Quite a funny experience, as it was the first time I got a ride from the police (in a civil car). Police chief inspector from Marienhamn and one of his colleges gave me a ride. Before they left they gave me an adresscard with the words: "whenever you have a problem here, you can call us!"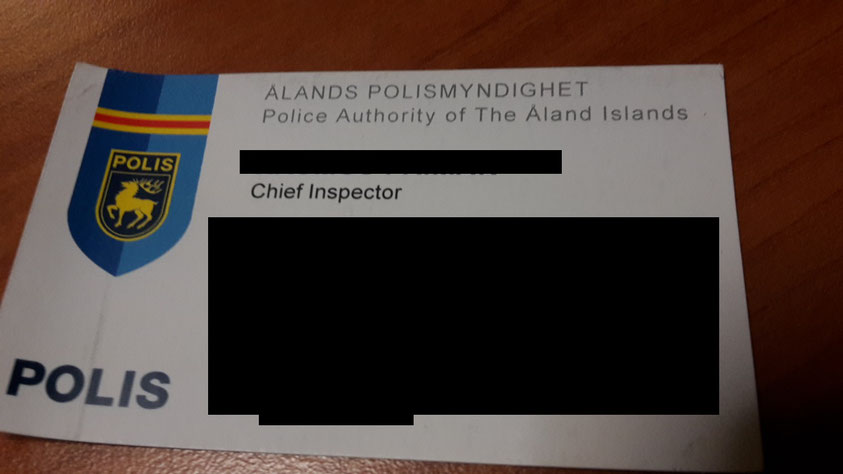 Hitchhiking the police :-)
2 more rides, a ferry and an other ride later I was at my couchsurfing host in Föglö. The last car was really easy to get! On Föglö, an island with 550 people, everyone knows everyone. I just spoke to the people on the ferry, by telling the name to whom I go, not the adress. The first man I asked pointed on an other man on the ferry who would go in my direction. So I asked hime and he gave me a ride...
Finally my big wish for this island came true! I got a kajak!!!! And even for free! As I wrote before, on Föglö everyone knows everyone, and so it wasn't too difficult for my host to find anyone with a kajak. A phoncall later I was invited to use it for 2 days.
At about lunchtime my kayak was charged with tent, sleeping bag, cloths, water and food. Delicius local salmon and bread was my main food supply. At only 6°C water temperature and 3°C air temperature I started paddeling, through an amazing landscape, more and more into the wild. I passed dozends of islands, it was actually not open water, but much more a huge labyrinth of channels between hunderts of Islands. Oland has a total of 6'000 islands, of whitch only 60 are inhabited, so no problem to find one just for me...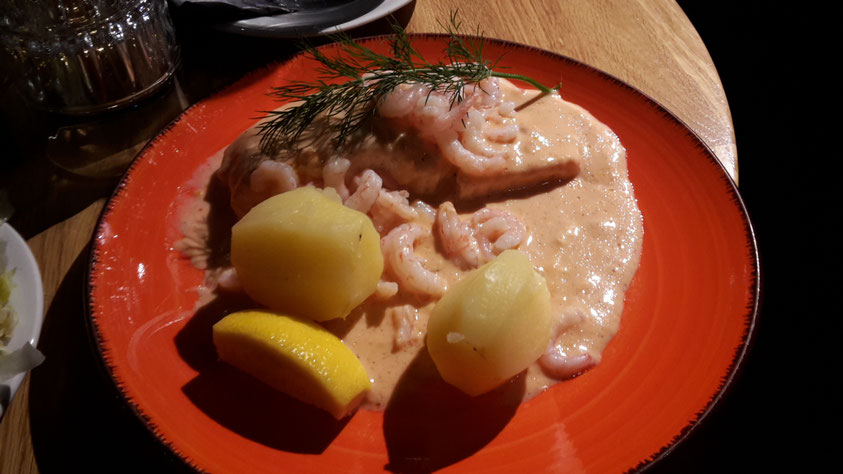 Salmon, my main dish on the islands :-) Picture from a meal I had in Marienhamn, cheap business lunch, even if it looks expensive and luxury. In Switzerland this would cost a fortune. Here together with a mixed salad prbably just 7 Euros.
After about 10 km I finally was reached my goal, a beautyfull island full of wood, just 500 m in diameter, only wilderness, no sign of any civilisation all around. I landed there after I surounded the island once. I set my tent up and explored the island by foot. Then when dark fall, I went into my tent to enioy my delicious meal. With my sleeping bag and the cloths I was well warm in the night, and I got largly eneugh sleep. Dark fell at 18:30 and day came back just at 08:00 in the morning, and in the dark on a lonly island, there was just nothing to do, specially becouse I didn't even have a flashlight with me...
Kajaking to a remote island, with noone exept me and the birds, swans and ducks
The next morning, after breakfast, I started to paddle back, along dozends of swans flying and running over the water. Also birds and ducks in a huge number.  When I finally reached my host on Föglö, there was a good surprise: I planed to go on this evening to Kökar, an even smaller island with 250 people, where I couldn't find a couchsurfer. So my plan was basically to take the only ferry with arrival in the dark at 21:00 on Kökar, and hoping that one of the few passenger on the ferry would invite me to stay at his home. But my amazing host on Föglö allready organised me a stay: My host knew the prister of Kökar, and the prister obviously knows a lot of people, thats how he got a contact, and after a phone call I was finally invited by a local!
This days on Aland will for sure stay in my memory for ever! Amazing experience, on a beautyfull and so peacefull place! With so warm hearthed and amazing locals, that would do everything for you to have a great time on their islands!
Enjoing a delicious meal with my hosts on Kökar, after they invited me spontanously for 2 nights in their beautyfull house. Incluisind breakfast and dinner. And this just after my host on the last island called them to ask wheather they could host me!